LOREDANA LONGO
(Catania - IT, 1967)

vive e lavora a Milano - IT
lives and works in Milan - IT


Sulla mia pelle - 1998
installazione in situ
stampa digitale su tela cerata, foto cucite a mano
On my skin - 1998
site specific installation
digital print on waxed canvas, hand-sewn photos

Loredana Longo esordisce nella ricerca visiva con la riflessione sulla sua immagine, con foto, installazioni, performances, di ispirazione autobiografica, che cedono successivamente il posto alla rappresentazione dell'universo familiare, del quale sono rappresentate le acute contraddizioni nella serie Explosion: set accuratamente predisposti di interni borghesi fatti saltare in aria e poi fedelmente ricomposti con ciò che è rimasto mentre tutti gli stadi della decostruzione/ricostruzione sono replicati all'infinito nei video, generando uno sfaccettato campo di battaglia, archetipo di problematiche relazioni sociali in generale. Di introspezione più marcatamente concettuale, un altro passaggio è espresso da CAGES, una grande installazione presentata a Bruxelles da Rosanna Musumeci nel 2010, a cura di Antonio Arevalo, che allude trasparentemente all'angoscia davanti alla libertà (Kierkegaard), trasmessa da ambienti claustrofobici. Nell'opera in mostra, l'artista si riveste di un replicante la sua pelle, fotografata e stampata in formato cartolina postale. In questo gesto, riconosciamo tutti gli elementi del suo percorso: il vissuto, il fantasticato, il subito e l'esibito, il difeso e l'atteso, l'intimo sussurrato e l'esteriorità ostentata. Una caotica ricchezza tematica nella cornice impeccabilmente teatrale della mise-en-scène di un'esistenza deperibile e di un'essenza intemporale.
Courtesy collezione privata
︎
Longo's research started from a thorough reflection on her own image, photography, installations, performances, obsessively replicating it. This work was then followed by videos about the family universe, whose manifold contradictions are vividly represented by the Explosion project: carefully displayed domestic settings are suddenly and traumatically blown up and then faithfully rebuilt by reassembling the damaged pieces, while all stages of the deconstruction/reconstruction are endlessly replicated by her videos, thus portraying a multifaceted battleground, an archetype of social relationships at large. Another step, providing a more conceptually introspective focus, was expressed by a huge installation shown in Brussels by Rosanna Musumeci and curated by Antonio Arévalo in 2010. It subtly alluded to the human anguish in face of freedom (Kierkegaard), conveyed by a cluster of claustrophobic CAGES. In this exhibition, the artist dresses in a replicating her skin, photographed and printed in postcard size. This gesture let us unveil all the steps of her pathway: the lived and the fantasized one, the suffered and the exhibited, the protected and the expected, the whispered intimacy and the flaunted exteriority. A chaotic thematic richness within the frame of an impeccably theatrical mise-en-scene of a perishable existence and a timeless essence.

Courtesy private collection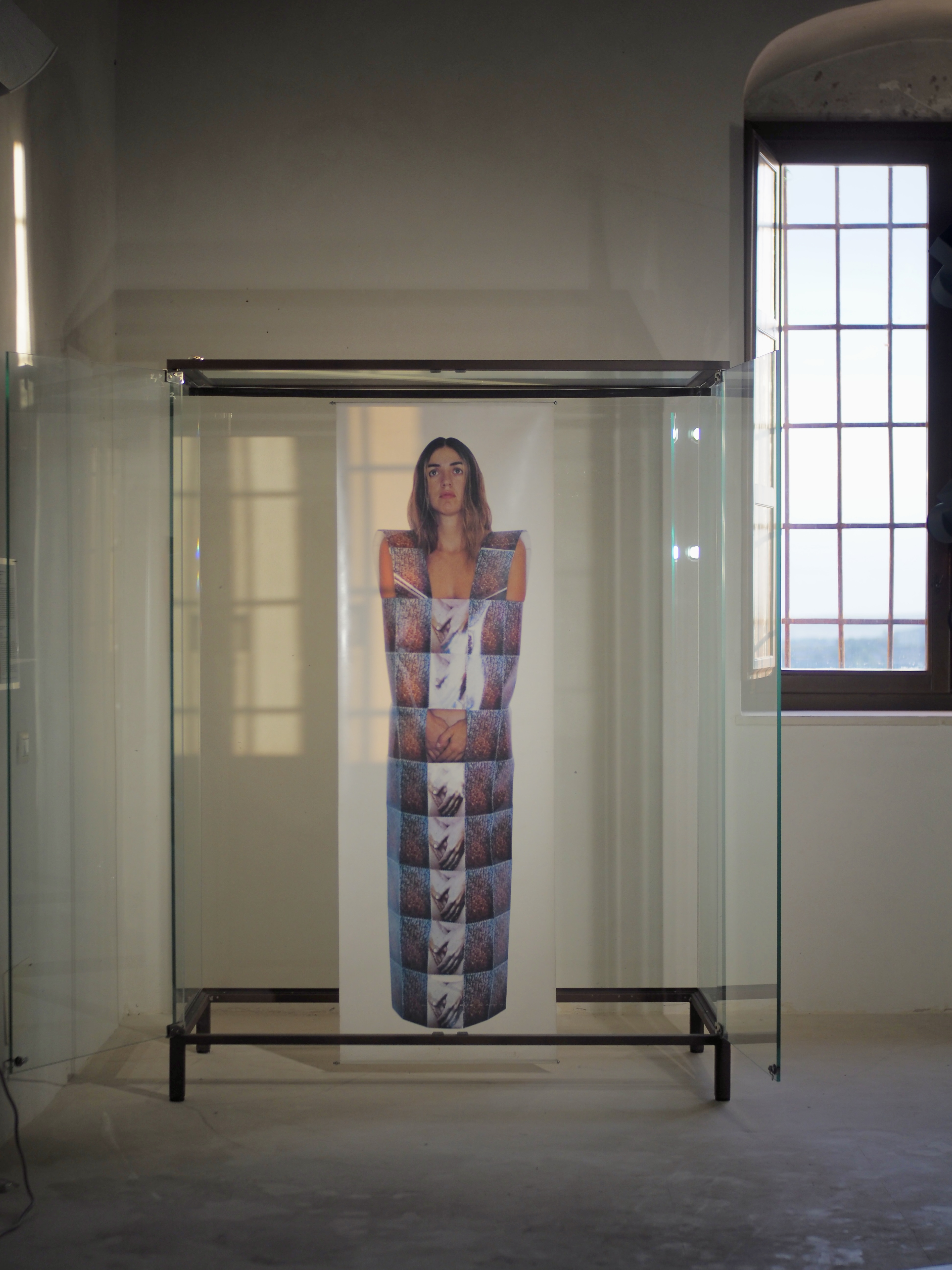 ︎