CARMEN CARDILLO
(Catania - IT, 1975)
vive e lavora a Catania - IT
lives and works in Catania - IT


ABUSE 2 - 2004

dittico
fotografia analogica b/n, post produzione e stampa digitali, 1/1
80x180

ABUSE 2 - 2004
diptych
b/w analogical photography, digital post production and print, 1/1
80x180
È possibile continuare a considerare tali due ritratti fotografici nel passaggio dall'analogico al digitale? Nelle immagini analogiche, il personaggio fotografato guarda se stesso, specchiandosi, mentre nella versione digitale l'ambientazione è cancellata e le immagini sono ritagliate, cariche del massimo dei pixel. Soltanto bocca ed occhi restano aperti, bloccati. "Memoria e identità, paesaggio e indagine sociale, globalizzazione e rituali arcaici, fanno da sfondo alle immagini…immagini forti, estreme nel contrasto, immagini di grandi dimensioni dove il ritocco digitale diventa sollecitazione, il cromatismo allarme, insomma immagini del nostro tempo". (Carmelo Nicosia)
Courtesy collezione privata
https://guestartprojects.wordpress.com/cardillo/
︎
Can anyone still treat as such two photographic portraits through the analogical/digital divide? In the analogical images, the portrayed individual is looking at himself, self-mirroring , while in the analogical version the setting is deleted and the images are cut out, at the top pixels charge. The mouth and the eyes are only left open, blocked. "Memory and identity, the landscape and social inquiry, globalization and archaic rituals, provide the setting for the images…strong, sharply contrasting, oversized images, whose digital retouch becomes urgency, the chromaticism an alert, shortly said, contemporary images". (Carmelo Nicosia)

Courtesy private collection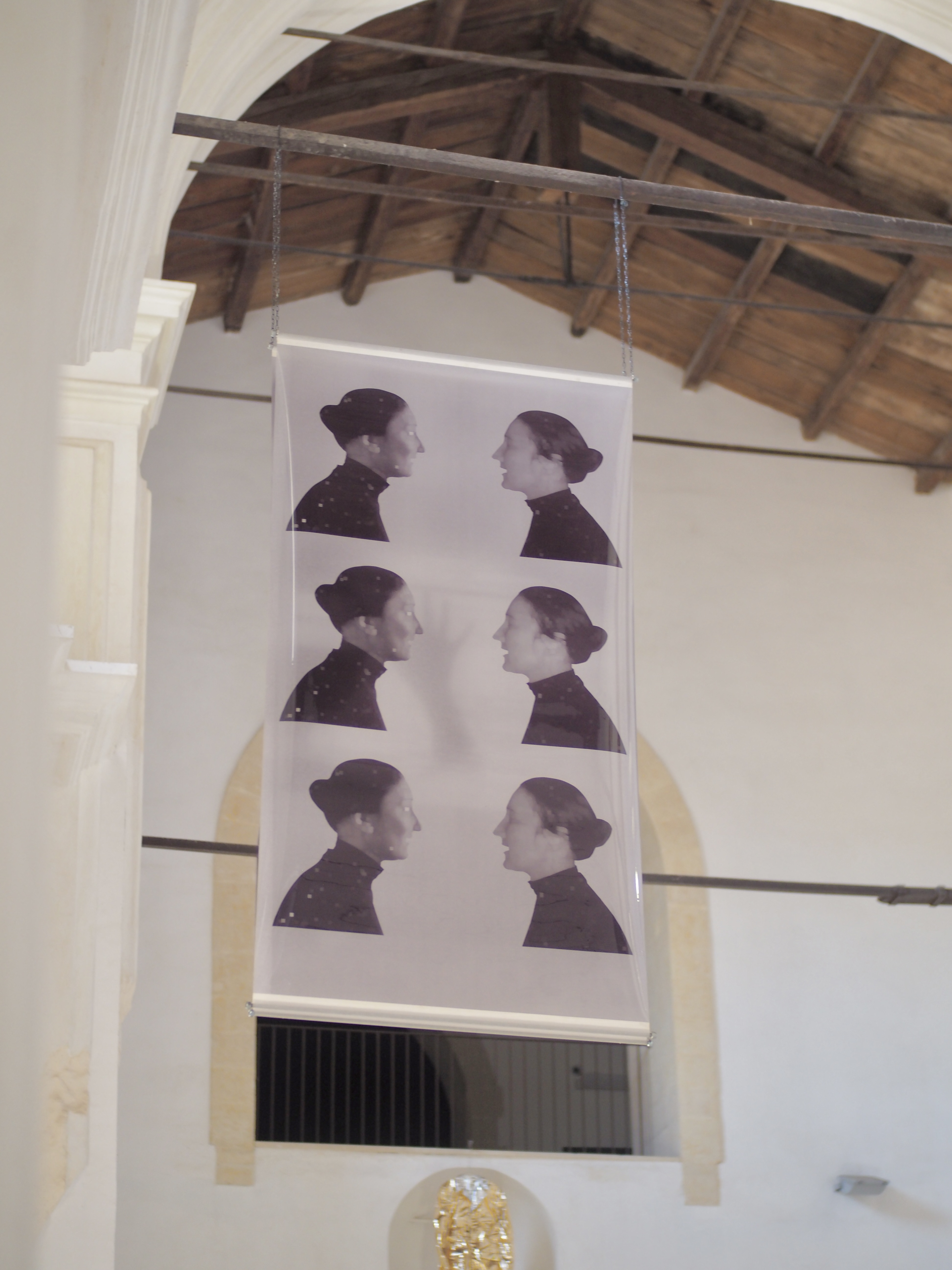 https://guestartprojects.wordpress.
com/cardillo/
...
Reperti blueprint - 2023
cianotipia su tela di cotone
170x290cm
Blueprint finds - 2023
cyanotype on cotton canvas
170x290
Tutti i siti storici siciliani attestano altrettante falle del sistema politico e sociale. Architetture e opere d'arte che si sgretolano nel tempo, trafugate e sottratte alle nuove generazioni. A seguito di un'esplorazione del monumentale spazio espositivo, l'artista ha individuato, abbandonati in un angusto pozzo di luce del convento, alcuni frammenti lapidei atti a simboleggiare il sommerso e il negletto che abbondano nei musei dell'isola. Riproducendoli con la tecnica della cianotipia, ha quindi ottenuto una traccia sensibile, immediata e poetica della loro presenza.
Courtesy l'artista
https://guestartprojects.wordpress.com/cardillo/
︎
All historical Sicilian sites prove as many flaws of the political and social system. Architectures and artworks crumbling over time, being smuggled and taken away from the upcoming generations. Following an exploration of the monumental exhibition space, the artist has found, abandoned within a tiny light well of the ancient convent, some stone pieces symbolizing the submerged and neglected treasuries spread through the island's museums. By reproducing them with the cyanotype technique, she has materialized a sensible, straight and poetic trace of their presence.
Courtesy the artist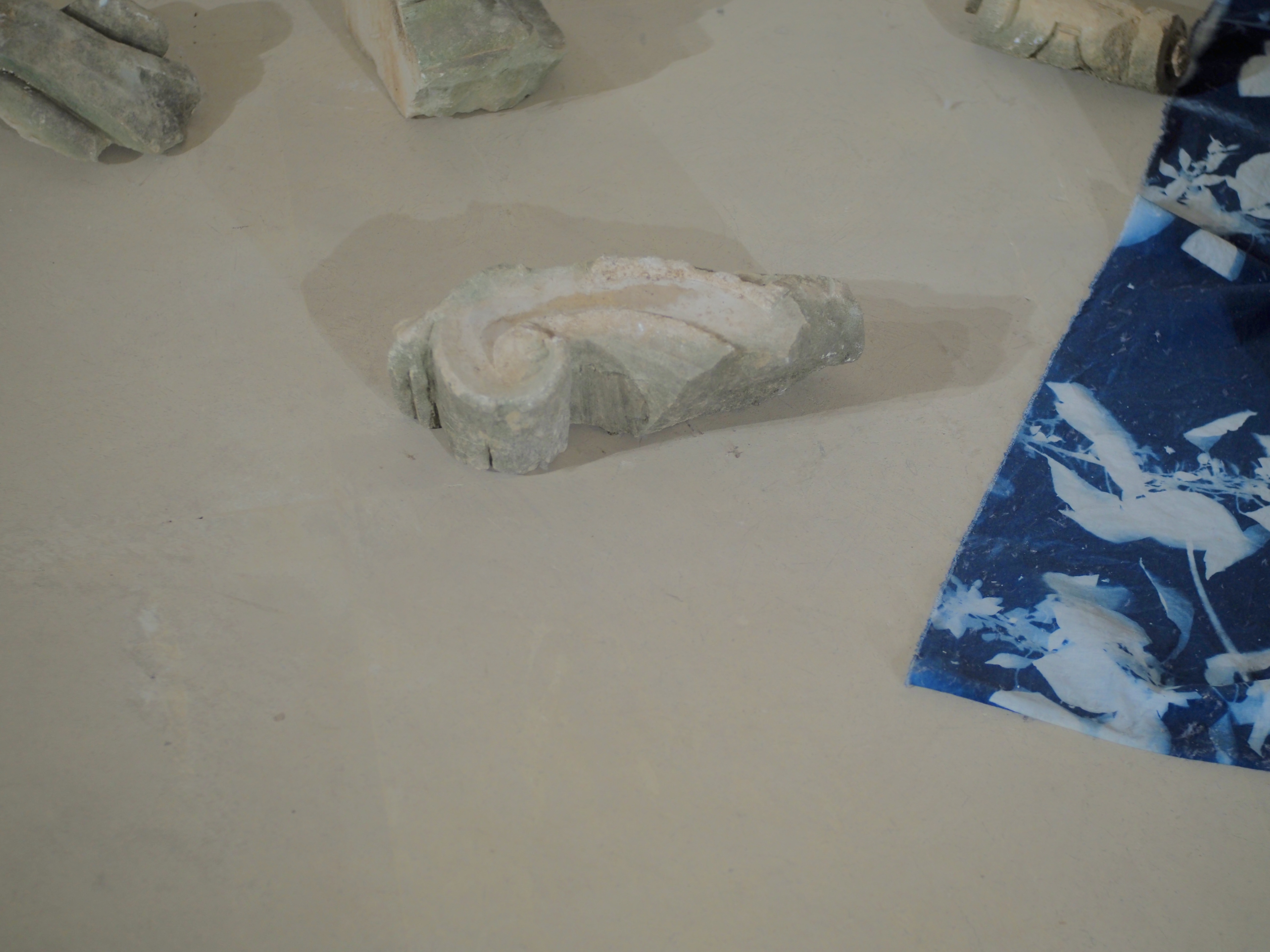 https://guestartprojects.wordpress.
com/cardillo/